Choice Caravans
Find Retreat Caravans for Sale at Choice Caravans
Are you shopping for Retreat Caravans for sale?
If so, look no further than Choice Caravans. As an authorised dealer for this much-loved manufacturer, we can help you find the perfect caravan for your next adventure.
The Benefits of Using Choice Caravans to Explore Retreat Caravans in Adelaide
When you work with Choice Caravans to find the ideal Retreat family caravan, you get all the benefits of working with our business, combined with the advantages of choosing the Retreat Caravans brand. These benefits include:
Our knowledge and experience: Having someone who knows and loves caravans is the best way to decide which model to buy. At Choice Caravans, we have been selling Retreat Caravans in Adelaide for ten years, and our owner has been in this industry for 25 years. Our experience, knowledge and enthusiasm make us the perfect guide for finding the ideal caravan.
The versatility of the Retreat range: One of the best things about the Retreat Caravans brand is the dynamic nature of their range. Retreat has on-road, dirt-road, deluxe on-road and deluxe off-road caravans. Whether you are looking for a luxurious road trip experience or are hoping to get off the beaten path and rough it a bit, Retreat has a caravan that suits your needs.
Warranty coverage: Retreat Caravans backs its caravans with three years of warranty coverage. As an authorised Retreat dealer for eight years and counting, Choice Caravans is qualified to carry out warranty repairs and servicing for Retreat-model vans.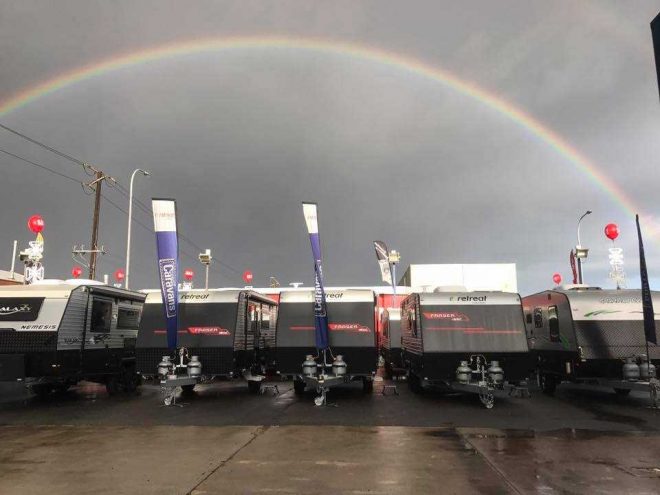 Tips for Getting More Value out of Our Retreat Caravans for Sale
As you explore new Retreat Caravans for sale at Choice Caravans, you might be wondering how to maximise the value of your purchase. Here are a couple of tips to help ensure long-term satisfaction and adventure:
Know what you want from your caravan: The type of caravan you buy will dictate the variety of experiences you can enjoy in it. If you want to feel like you are towing a luxury hotel with you wherever you go, it's tough to beat Retreat's deluxe offerings. If you intend to use your caravan for camping trips, make sure you are choosing one of the off-road or dirt-road options.
Think about floorplans: Say you decide to go with Retreat's 'Hamilton' caravan—the deluxe on-road model. Within this caravan category, Retreat gives you a selection 14 floor plans. Ask about floor plans as you shop and be sure to consider them in detail before you buy. The size and layout of your caravan should depend on factors such as the size of your family, your budget and how much space you want.
What Customers Stand to Lose If They Don't Use Choice Caravans
At Choice Caravans, we stay true to our company name. Our goal is to give you a world of caravan options to choose from so that you find the perfect van to suit your needs. Even if you know you want to focus on Retreat Caravans for sale, we can help you explore the options within the brand itself. By giving you a full view of what's available, we can take you one step closer to that perfect caravan adventure. Contact us today to get started.